Catalog
Shark Fishing on Prospector 1, Mullaghmore Co Sligo, Ireland
Blue Shark
Blue sharks are found in open ocean world wide except in the deep tropics. They are common of the Irish and US coast.
The blue shark, with its streamlined body, is a fast and aggressive hunter. Their bodies are designed for efficient long range cruising but they can unleash bursts of speed and hard turns when chasing down prey. There are reports of these fish being caught over 15' in length, although the largest measured and weighed blue was 13' long and near 600 lbs. in weight. A blue takes about 12 years to mature and is about 7' in length and weighs in at over a 100 pounds. Blue sharks bear their young live and a litter can have up to 50 pups.
The fish may be eaten if it is immediately bled while it is still alive. It should be skinned and soaked as soon as possible because blue sharks excrete urea through their skin and the taste must be purged from the meat.
Fishing Methods: Blue sharks are most often caught by chumming / rubydubing=y the area and then setting out bait lines. The blue shark has course skin and tend to roll up in the line when hooked, so it is imperative that you use steel leader when fishing them.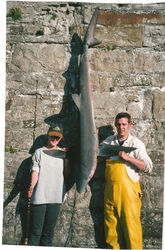 Results from the tagging of Blue Shark in Irish Waters Dr. Paddy Fitzmaurice & Peter Green
The Central Fisheries Board's Marine Sportfish Tagging Programme was initiated in 1970 by the Inland Fisheries Trust, who had responsibility for developing and promoting recreational sea angling. By the late 1960s, results from sea angling competitions were showing a decline in the capture of some of the most important species such as Blue Shark, Tope, Monkfish, Skates and Rays. At that time, virtually all fish caught by anglers were killed and taken ashore for weighing and photographic opportunities. As little was known at the time about the biology and migration patterns of these species, the Inland Fisheries Trust decided to introduce a tagging programme with the explicit purpose of introducing conservation measures and to learn more about the migratory patterns of sea angling species. Sea angling tourism revenue is worth about £25 million to the Irish economy.
The skippers of angling charter boats were becoming conscious of the need for conservation and, in discussions with the Inland Fisheries Trust's staff, offered their assistance in carrying out a tagging programme. This was to be a voluntary operation.
Different types of tags were tested, including Petersen Discs, Spaghetti type tags, and jumbo Rototags which were manufactured in Ireland and used for tagging cattle. The jumbo Rototag was chosen because of ease of supply, ease of application, it is easily seen and carries a clear message stating that a reward was offered for its return to the address on the tag. The tag was applied to the posterior edge of the dorsal fin by means of an applicator. A few enthusiastic skippers were selected to initiate the tagging operation. The feedback from the participating skippers and from the anglers was most encouraging. Today there are in excess of 70 charter skippers taking part in the programme around the Irish coast.
Blue Shark is one of the largest of our marine sport fishes. They are found in Irish waters from Malin Head in Donegal, around the west and south coasts as far as Hook Head in Wexford. They occur mainly during the months of June to October and are readily caught on rod and line during settled weather conditions, and especially when the sea water temperatures exceed 14°C. They are captured by anglers by laying a trail of chopped up mackerel and fish oil, usually at a distance of 5 to 10 miles offshore.
Tag Returns
Up the end of 1998 15,037 Blue Shark were tagged around the Irish coast. Recaptures have amounted to 490 fish representing a minimum return of 3.25%. From the pattern of returns it is clear that the Irish stocks of Blue Shark extend across the North Atlantic. The migratory pattern appears to follow the continental shelf of Europe and West Africa across the Atlantic ocean, northward along the north-eastern
coast of South America past the West Indies and upwards towards Newfoundland, in a clockwise direction. The largest number of recaptures were in the vicinity of the Azores Islands, where 350 recaptures have been made (see illustration). The majority of these are taken by Spanish fishing vessels using longlines. In the vicinity of the Canary and Cape Verde Islands, 80 tagged fish have been recaptured mainly by Korean and Japanese longlines.